Carolina del Rivero y Donato Juárez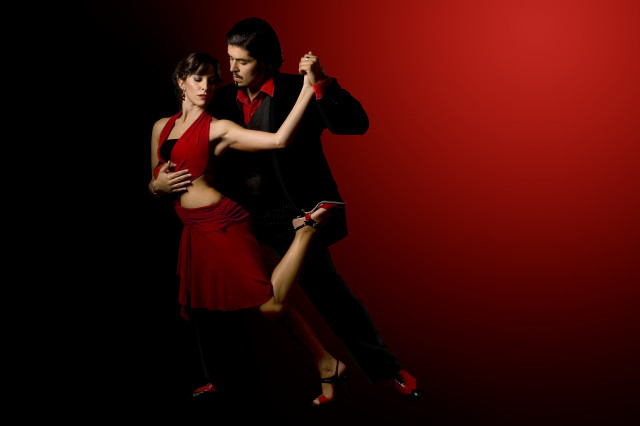 Carolina del Rivero started dancing at the age of 6, and throughout her career she has practiced different dancing techniques. She studied ballet at the world-famous Teatro Colon (the most renowned opera house in Latin America) and later Modern Dance at the famous "Taller de Danza Contemporanea del Teatro San Martin". She discovered the tango in 1995, and since 2000 Carolina travels around the world giving workshops and exhibitions. She takes part as a master teacher and dancer in the "Congreso Internacional de Tango Argentino" (C.I.T.A) -the world largest annual tango event that takes place in Buenos Aires every March- since 2001. Applying all her artistic knowledge from other dances, she brings to tango, style and elegance, as well as a profound understanding of the technique and dynamics of the dance, and also of the woman's role in it. She is one of the most renowned master teachers and performers in the world of Argentine Tango.
Donato Juárez is one of the most talented of the new generation of tango dancers in Argentina. Musical, elegant, precise, driven, Donato teaches tango as he dances it: with energy, passion and sensitivity. From his hometown of Mar del Plata in Argentina, he has been part of a group of enthusiastic young dancers that has continued to tirelessly explore the intricacies of this dance. He has studied with many renowned teachers who were quick to notice his impressive technical skills. Donato has been invited to international tango festivals in the United States, Iceland, Australia, New Zealand, Europe (Italy, Spain, Holland, Belgium, Greece, Switzerland, Finland), and Mexico and has performed in many theaters in Argentina. He has been invited to perform, with Cecilia Gonzalez, in the 2006, 2007 and 2008 International Argentine Tango Congresses (CITA) in Buenos Aires. Since 2009 he also takes part as a master teacher.
We can perfectly state that Carolina and Donato bring together through their dance union " technical and interpretive quality", where the musicality, the elegance and the precision of their dance demonstrate a strong originality. They transmit as well sensitivity, energy and passion for the education of this dance, what makes them dancers and teachers of artistic talent, clearly perceived in the atmosphere of those that have the opportunity to see them.