Tango Shoes & Clothes
We will have a whole floor dedicated to Tango Shoes & Clothes.
At Mala Junta, 1st floor. Open from Saturday to Monday from 12h to 19h.
Our exhibitors:
BETTINA MARIA – MODAS DE TANGO
NOSOLOTANGO SHOES
TANGO RAUM – COMME IL FAUT SHOES
ATELIER SIGEL – FINE JEWELLERY

LA MUNECA SHOES – BASAK EVRAN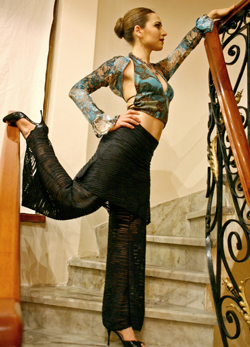 BETTINA MARIA – MODAS DE TANGO
INFO:
Homepage: www.bettinamaria.net
Facebook: BETTINA MARIA – MODAS DE TANGO
Telephone:  +49.176.5838-5887 – Europe  +1.415.944-1868 – USA
E-mail: bettinamaria7@gmail.com
This year, fashion designer BETTINA MARIA is exhibiting again at INTERNATIONAL TANGO FESTIVAL BERLIN. BETTINA MARIA creates one-of-a-kind pieces for tangueras that want to feel unique, alive, feminine and sexy!
BETTINA MARIA, after living for over two decades on the West Coast of the USA, and three years in Buenos Aires, is now based in Berlin. Her fashion reflect a fusion of cultures: innovative Californian free spirit, European elegance and a piece of "darkly" tales of Buenos Aires. Next to elements of nostalgia and drama of the Argentine Tango, femininity, sensuality and poetry, one discovers elements that surpass the association of "Tango Fashion" that are definitely wearable for other occasions.
Bettina's fashions are individually designed in her atelier in Berlin and created by hand with love and attention for detail. Prices vary from 50 to 400 Euros. Creations for professional dancers for stage, performance and other special occasions can be custom designed and tailored according to individual needs, even long distance. In the last few years, Bettina choreographed Tango & Catwalk Fashion Shows in San Francisco, Buenos Aires, Berlin, London and Moskow. She exhibited at major tango festivals in Buenos Aires, New York, Miami, San Francisco, Berlin, Moskow, London, Paris, Budapest and Amsterdam.
For more information and schedule, please check her website www.bettinamaria.net or her facebook page BETTINA MARIA – MODAS DE TANGO.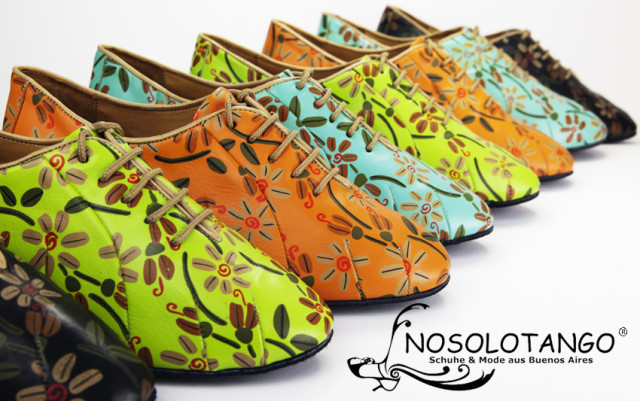 NOSOLOTANGO Shoes

NOSOLOTANGO Shoes are being produced with the specific Know-How of the best Argentinian and Italian craftsmen. The most beautiful materials have been chosen to guarantee the comfort that is so much appreciated by dancers. Having passed numerous quality controls and produced by hand in limited series NOSOLOTANGO shoes fullfill a unique promise of grace and comfort. Touch, try, feel the difference!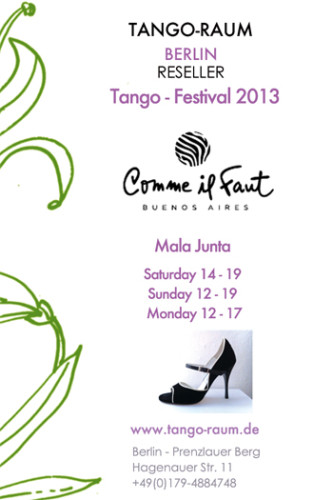 COMME IL FAUT SHOES from TANGO RAUM BERLIN


ATELIER SIGEL – FINE JEWELLER
The atelier will be open during the Festival:
Lychenerstraße 16 (U-2 Eberswalderstraße)
10437 Berlin
Tel: 01772732740
Friday and Saturday !3:00 – 18:30, Moday after arrangement. Sunday, if its not raining,  you will find me at the mauerpark fleemarket in Prenzlauer Berg.
The small atelier produces unique, handmade glass-jewellery, using fusion- and tiffanitechnique.
Beauty- and colorful pieces; with our without setting; Jewellery meets art and will complement your evening dress.
During the festival you will have the oportunity to make one of those your own.
LA MUNECA SHOES – BASAK EVRAN
La Muñeca will present Madame Pivot shoes at the Berlin Tangofestival. Shoes for women and men can be seen at Kolonnenstr. 29 during the workshops on Saturday and Sunday throughout the day.
After having danced classical ballet and jazz, I discovered tango argentino in the end of 2006 and switched to tango. Of course, my journey with tango is a journey traveled in tango shoes. After experimenting various styles and brands of tango shoes from all over the world, I discovered Madame Pivot shoes, which offers lots of great styles and are always a perfect fit.